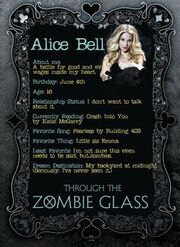 ALICE 'ALI' BELL
About me: A battle for good and evil wages in my heart.
Birthday: June 4th
Age: 16
Relationship Status: I refuse to talk about it.
Favorite Song: Fading by Decyfer Down
Favorite Thing: Little sis Emma
Least Favorite Thing: One particular boy. You know who you are!

COLE HOLLAND
About me: I'd rather go down fighting than to stand back and stay safe.
Birthday: Jan 9
Age: 17
Relationship Status: SHUTTING UP about that
Currently Reading: I've Done Something Stupid, Now What? by ME
Favorite Song: Forever by Red
Favorite Thing: winning

KATHRINE 'KAT' PARKER
About me: TRUE STORY –> I will rule this year
Birthday: Aug 18
Age: 16
Relationship Status: single FOREVER (suck it, Frosty!)
Currently Reading: the back of the Pop Tart box
Favorite Thing: I'm dipped in awesome sauce and sprinkled in awesome
Least Favorite Thing: Frosty
Dream Destination: Anywhere Frosty is not

FROSTY
About me: Mess with my boys, and I'll break your face.
Birthday: March 14
Age: 17
Relationship Status: taken (soz Kat)
Currently Reading: list of rules in detention
Favorite Thing: pretty little kitty kats
Least Favorite Thing: watching Kat walk away (the view rocks, though)
Dream Destination: anywhere Kat is